Man, has CrossFit stood the test of time. I mean it has undoubtedly become more and more popular by the day, for reasons I cannot understand. But I digress. CrossFit's National Games are on ESPN, the athletes are becoming more and more well known, and the affiliations with major corporations and companies in America prove that the people love CrossFit. I have the utmost respect for those who practice CrossFit professionally, and if doing CrossFit is your way of getting in shape and it's something you genuinely like, then so be it, all the power to you.
But there's one thing people need to realize before they start doing CrossFit, whether it's on their own, at a CrossFit certified gym, or with a CrossFit certified trainer. In my opinion, there is no doubt that CrossFit comes with a higher risk of injury in comparison with normal strength training and cardio workouts.
People fail to realize that the CrossFit pros are ridiculous athletes. And a quick thirty-second YouTube search for "CrossFit fails" can show you some of the scariest moments in exercise history. It's just a riskier form of exercise, a greater hazard to burn calories, and a more dangerous method to build strength.
Do people really love doing ridiculously inefficient movements with extremely high risk of injury? Before I get to why you should think twice before you do CrossFit, let me reiterate: do whatever type of fitness it is that makes you enjoy the process and get results. But just realize there are safer ways to go about this.
Too Much Emphasis on More Weight and More Reps
The first problem I have with CrossFit is the constant obsession to put up higher weight and perform more reps in a smaller time frame. Is it great to better yourself and strive for improvement? Of course. But when you're sacrificing proper form and safe movements to just squeeze out a few more reps of "snatches," you're putting yourself at a greater risk for injury.
Your average CrossFit athlete will just completely disregard his form in an effort to put in more work. They're addicted to beating their previous times, almost to a fault. Whether this work is more weight, more reps, or a shorter duration, often time form is thrown out the window. When someone is performing reps of Squat Jumps and trying to get more reps in a 60-second window than last time, they become obsessed with the results and not the form or process. They begin to let their knees cave in, knees extend over their toes, or fail to keep their chest up and back erect. Or they barely go down low enough to really engage the hamstring and gluteus muscle. Now not only are you at a greater risk of injury, you're performing an inefficient exercise and not working the intended muscles to their full range of motion.
Instead of focusing on more, I always implore clients to focus on doing it right.

It's great that you can do 50 pull-ups in a row. But if the form is a swinging motion that is more for your forearms and shoulders and not your latissimus dorsi and other back musculature, then it defeats the purpose of performing a pull up.
Lack of Attention In CrossFit Classes
Most, not all, but most CrossFit classes are really just 10-15 people following a dry erase whiteboard of exercises and trying to complete it as fast as they can with one trainer trying to watch the form of everyone. It's impossible. A good trainer can watch and ensure proper form of maybe 5 people in one sitting, maybe one or two more. Any more than that and you simply need more eyes to watch those being instructed.
So when you have 15 people doing barbell clean and presses in a ratio to one instructor, you have an environment that is more predisposed to someone getting hurt. Professional CrossFit athletes know what they are looking for in proper form, and know what they did wrong when they perform a rep incorrectly. A beginner cannot make that necessary adjustment, and shouldn't be expected to make that adjustment. Because of this, more attention must be paid to the beginners in order to ensure proper form during the exercise, and safety. Having one trainer watching and instructing 15 or sometimes more people is not a great way to ensure the safety of others.
CrossFit Isn't Training, It's Exercise
You want to get bigger, faster, and/or stronger? Well then CrossFit is not for you, in my opinion. While you can train your lower body to have stronger legs when your doing prowler sprints, CrossFit is just a form of exercise. Lifting weights and using progressive overload is the most efficient way to make your legs stronger. Doing CrossFit type movements such as these prowler sprints or squat thrusters are far less efficient to building leg strength.
CrossFit athletes don't perform all CrossFit style workouts day in and day out to improve. To improve their overhead squat, they do normal barbell back squats and other leg exercises to strengthen their legs. They do core work to stabilize the spine while holding a massive load over their head. They don't do countless reps of the exercise to improve; they train their body and other muscles to be better at the exercise. There's a difference.
And unfortunately many won't realize this difference. They'll attempt to keep adding weight to their overhead-squats, and since this is a much more dangerous and advanced exercise than say, a back squat, they are again at risk of injury. The athlete should focus on improving overall leg strength and core stability before adding more weight to their overhead squat. Not add weight to the overhead squat to improve that exercise.
Unfortunately, of the insane amount of people who sign up for these CrossFit classes, many of them get injured. Some aren't as serious as others, maybe some calluses or rolled ankles, but others are much more serious.
Case in point:
Rhabdomyolysis. Rhabdomyolysis is a potentially fatal condition, which is caused by the breakdown of muscle cells. Under extreme conditions, your muscle cells explode and they expire. They then leak out excess amino acids and protein into the blood stream. Among these proteins that are broken down is myoglobin. Normally the body would just get rid of the waste, but myoglobin in the blood is extremely taxing to the kidney and can potentially do great harm to your kidney in a short amount of time.
Now am I saying this is going to happen? No. But it's something to think about when your CrossFit trainer and all of CrossFit society are pushing you beyond your limit, exercise after exercise. What's crazy is Rhabdomyolysis, or more commonly known as Rhabdo, is something some CrossFit instructors actually know about; yet continue to push people beyond their limits regularly.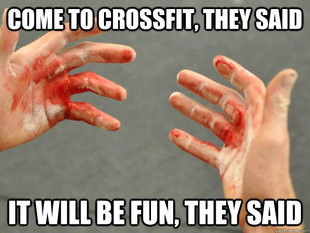 Another problem with pushing yourself constantly is elevated fatigue levels. By exhausting yourself constantly, you're tiring out the rest of your muscles and your central nervous system. After being exhausted and barely being able to move, try to go do some jump-ups on a 2-foot platform, and see how hard it is. Unfortunately the culture of CrossFit says push, push, push, and for those who aren't ready to handle it put themselves at a greater probability of injury.
Regrettably, those new to CrossFit view this culture as a push-it-to-the-limit constant type of exercise, and that's when injury, both minor and serious, can really wreak havoc in someone's life. And as CrossFit's founder, Greg Glassman once said about the "sport", "It can kill you, I've always been completely honest about that."
Sorry, this truly gets to me. I hate when I see people claiming they can do 30 pull-ups in a row. Normally it's an incredible fitness feat, but when you're swinging and using momentum to do 50% of the work, you'll unfortunately see 50% of the results.
Do a real pull-up – go all the way down, and use your back, not your arms, to perform the exercise.
So should you completely avoid CrossFit? No, not completely, but before you engage in CrossFit type training you need to understand the risks involved. You should do this for any type of exercise, but with the amount of injuries seen in CrossFit it's apparent there's a greater risk of injury there. It comes down to the age-old question, "is it really worth the risk?"